Action Figures Inéditas de Lost: Jacob e Homem de Preto
Por Dado Ellis em 11 de April de 2010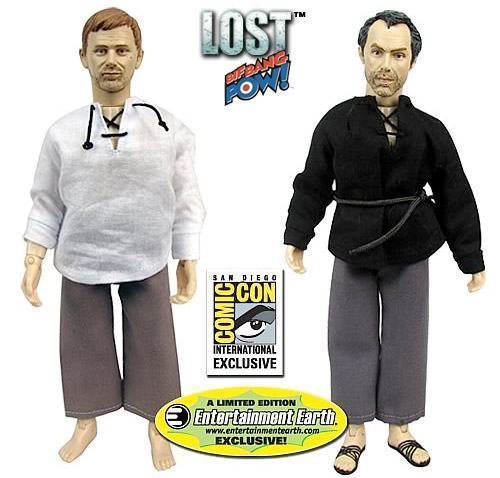 A Bif Bang Pow anunciou duas action figures inéditas da série Lost: Jacob e o Homem de Preto!
As figuras Lost 8-Inch Jacob and Man in Black fazem parte da nova série da Bif Bang Pow com action figures de Lost em estilo retro, inspiradas nos bonecos dos anos 70. As figuras de Hurley, Locke e Ben já apareceram aqui no Blog de Brinquedo.
O set Lost 8-Inch Jacob and Man in Black – Series 3 vem com Jacob e Homem de Preto vestidos com roupas de tecido e corpo com várias articulações. Os bonecos medem 20,3 cm de altura e na minha opinião ficaram muito legais.
O set com as action figures de Jacob e Man in Black custa US$39,99 na Entertainment Earth e será entregue no stand da Entertainment Earth na San Diego Comic-Con 2010 ou via correio depois da convenção. A loja Entertainment Earth aceita encomendas do Brasil e essas figuras devem se esgotar rapidamente.
Uma boa dica para os fãs de lost é escutar o podcast LOSTies, onde @phsantos e @eduardo_sales, com a ajuda de convidados, discutem o episódio semanal com bom humor e inteligência. Recomendo!
Veja outros brinquedos de Lost aqui no Blog de Brinquedo, incluindo as Series 1 e 2 Vintage Figures também da Bif Bang Pow.
Via Entertainment Earth.
em
Action Figure
Televisão