Action Figure do Dragão Granamyr do Desenho He-Man e os Defensores do Universo
Por Dado Ellis em 18 de December de 2012
A Mattel colocou a venda no site MattyCollector.com a action figure do dragão Granamyr mostrada pela primeira vez na SDCC 2012. O mais velho e sábio dos dragões de Darksmoke, personagem de He-Man e os Defensores do Universo famoso desenho animado dos anos 80.
O Granamyr Figure – Great Magic Wielding Dragon mede 58,4 cm (23") de altura com 20,3 cm de envergadura, tem várias articulações incluindo cintura, cotovelos, pulsos, pés e cabeça com capacete não removível. O grande dragão Granamyr é o guarda dos segredos mágicos de Eternia e vem em embalagem com ilustrações do artista Rudy Obrero.
O dragão Granamyr He-Man and the Masters of the Universe Figure custa US$80 no site MattyCollector.com.
Veja outros brinquedos de He-Man e os Defensores do Universo aqui no Blog de Brinquedo.
Via Tomopop.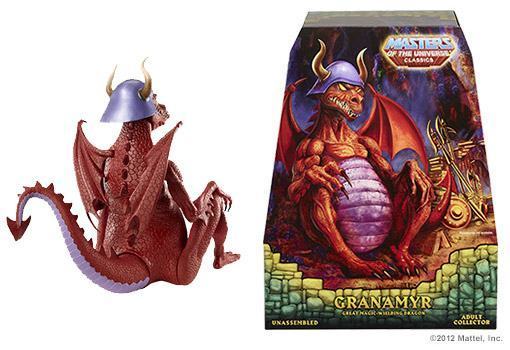 em
Action Figure
Televisão