The Hobbit: Estátua do Anão Thorin Oakenshield – Weta Collectibles na SDCC 2012
Por Dado Ellis em 11 de July de 2012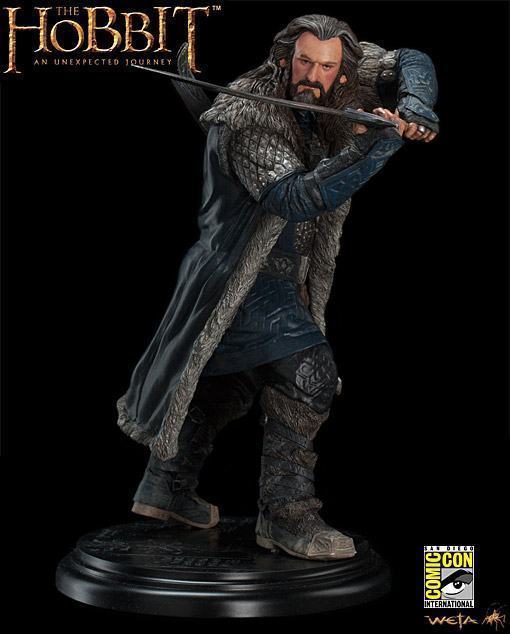 A WETA Collectibles vai vender durante a San Diego Comic-Con 2012 seu primeiro produto da dupla de filmes The Hobbit: An Unexpected Journey (dez 2012) e The Hobbit: There and Back Again (dez 2013) dirigidos por Peter Jackson e baseados no livro The Hobbit escrito por J. R. R. Tolkien em 1937.
A estátua Thorin Oakenshield (with shield) Statue retrata o anão líder da "Company of Dwarves" e Rei do Povo de Durin em escala 1:6 e esculpido com precisão em resina polystone diretamente pelos responsáveis pelo filme.
O Thorin Oakenshield (with shield) Statue tem edição limitada em 700 peças, sendo que apenas 500 para venda exclusiva, por US$249, no stand número #3513B da Weta na San Diego Comic Con. As 200 peças restantes serão vendidas em convenções na Alemanha e Nova Zelândia.
Além da estátua, a Weta também vai vender na convenção uma ilustração exclusiva criada pelo designer conceitual Gus Hunter da Weta Workshop com edição limitada em 100 cópias assinadas por US$60 e 400 cópias não assinadas por US$50.
Veja mais brinquedos da WETA Collectibles e outros brinquedos exclusivos da SDCC aqui no Blog de Brinquedo.
Via Weta News.
em
Cinema
Estátuas e Bustos