Super Toast, a Super-Torrada de Pelúcia na San Diego Comic Con 2012
Por Dado Ellis em 14 de July de 2012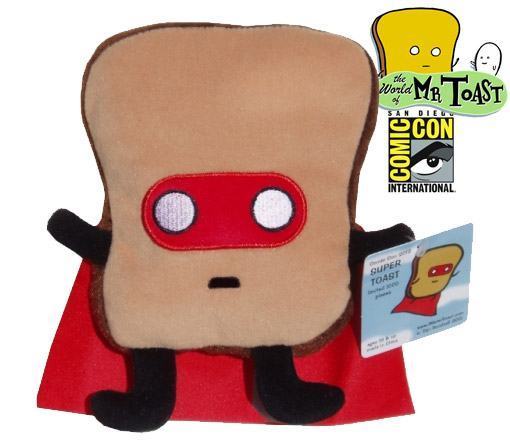 Quem não pode faltar na San Diego Comic Con é o Mr. Toast, a torrada de pelúcia estrela do The World of Mr. Toast, um mundo divertido com personagens malucos como Joe The Egg, Clem Lemon e Shaky Bacon criados por Dan Goodsell.
A versão exclusiva para a SDCC 2012 é o Super Toast, com o nosso querido Mr. Toast vestido de super-heroi com capa e máscara vermelha, pronto para combater o crime no café da manhã! O Super Toast mede 17,8 cm (7") de altura.
O Super Toast tem edição limitada em 1.000 torradas de pelúcia para venda exclusiva na San Diego Comic Con 2012 por US$10 cada. Queria estar lá para compra uma super-torrada!
Visite o site The World of Mr. Toast para ver quadrinhos, vídeos e conhecer melhor esse mundo diferente onde as comidas como ovo, bacon, cebola, limão e torrada viram personagens.
Veja outras versões do Mr. Toast aqui no Blog de Brinquedo como o Vampire Toast e o Frankentoast.
Via Plastic and Plush.
em
Pelúcia e Pano