Kotobukiya e Clone Wars na San Diego Comic Con!
Por Dado Ellis em 24 de July de 2008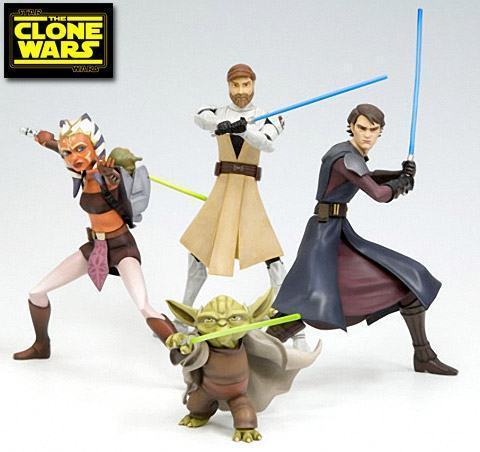 A Kotobukiya levou para a San Diego Comic Con, que começou hoje, sua nova série de estátuas Clone Wars Jedi ArtFx.
São quatro estátuas das personagens principais da nova série de televisão Star Wars Clone Wars: Anakin Skywalker com 18 cm de altura, Obi-Wan Kenobi com 17 cm de altura, Yoda com 8 cm de altura e Ahsoka Tano com 15 cm de altura e carregando nas costas uma mochila com Rotta, filho de Jabba The Hut, dentro.
As estátuas ArtFx vêm desmontadas para serem montadas facilmente usando apenas encaixes, sem necessidade de cola. O set Clone Wars Jedi ArtFx está em pré-venda na Alter Ego Comics por US$152,97.
Veja outros brinquedos de Star Wars aqui no Blog de Brinquedo!
Via The Official Star Wars Blog.
Clique em "Continuar lendo" para ver outras fotos.
em
Estátuas e Bustos
Star Wars