Doctor Who TITANS Blind-Box: The Rebel Time Lord
Por Dado Ellis em 26 de March de 2015
Há dez anos atrás, no dia 26 de março de 2005, a série britânica Doctor Who voltou para as telas de televisão, depois de longo hiato desde de dezembro de 1989. Aproveitando a data vamos mostra a última coleção de bonecos de vinil estilizados da linha TITANS Doctor Who da Titan Merchandise.
A coleção Doctor Who TITANS "The Rebel Time Lord" Collection Mini-Figures vem com 12 novos bonecos de vinil super estilizados, com 7,6 cm (3") de altura cada, apenas com personagens que participaram da oitava temporada, a primeira de Peter Capaldi. As mini-figuras foram desenhadas pelo toy artist Matt Jones (Lunartik) e vêm embaladas em caixinhas lacradas tipo bind-box.
O set lis é: 12th Doctor (Peter Capaldi) e 12th Doctor Homless/Mendigo, Clara Oswald (Robot of Sherwood), 11th Doctor (Matt Smith), Danny Pink e Danny Pink Cyberman, Robin Hood, The Teller, Half-Face Man, The Foretold, Dalek Rusty e Missy, além de mais 4 figuras "chase" secretas.
Cada caixinha blind-box da coleção Doctor Who TITANS "The Rebel Time Lord" Collection custa US$9.99 na pré-venda da Entertainment Earth, que aceita encomendas do Brasil.
Veja outras mini-figuras TITANS Doctor Who, entre mais de 150 brinquedos da série britânica aqui no Blog de Brinquedo.
Via The Doctor Who Site.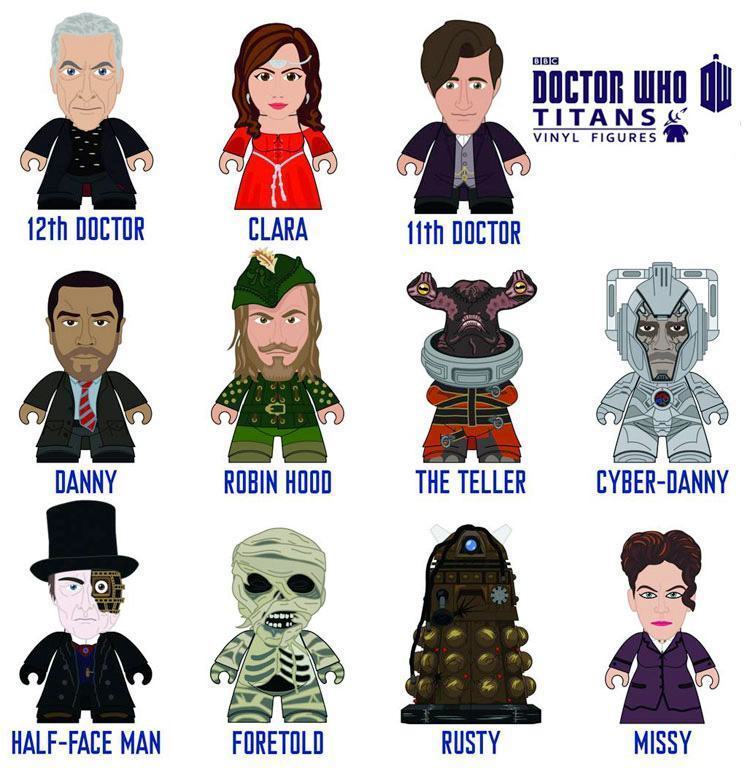 em
Bonecos
Doctor Who
Mini-Figuras
Sci-Fi
Televisão