Cofre KITT A Super Máquina
Por Dado Ellis em 23 de July de 2013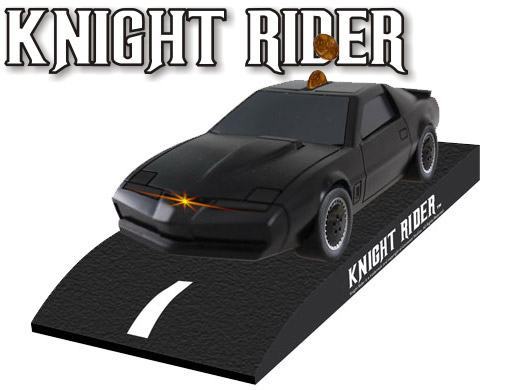 A série de televisão A Super Máquina fez bastante sucesso nos anos 80, com 4 temporadas estreladas pelo galã David Hasselhoff.
O cofre KITT Knight Rider – Money Bank with Sound and Lights replica o Pontiac Trans-Am 1982 modificado e dotado de inteligência artificial com tecnologia super avançada, conhecido pelo nome KITT (Knight Industries Two Thousand) e usado dirigido pelo protagonista Michael Knight. O cofre vem com efeitos sonoros da série e luzes que acendem de verdade, além da fenda no teto para colocar moedinhas.
O cofre KITT Knight Rider – Money Bank custa £17,99 na pré-venda da Forbidden Planet, que aceita encomendas do Brasil.
Veja também a action figure David Hasselhoff em A Super Máquina e os veículos Minimates KITT e KARR aqui no Blog de Brinquedo.
Via Forbidden Planet.
em
Carros
Televisão