Monstros do Universal Studios: Dr. Jekyll & Mr. Hyde e O Corcunda de Notre-Dame
Por Dado Ellis em 23 de May de 2013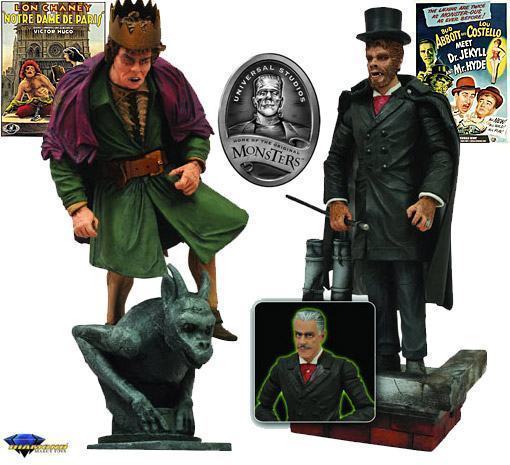 A Diamond Select e o Art Asylum colocaram em pré-venda dois novos monstros clássicos da coleção de action figures Universal Monsters Select Line em escala 7", com 18 cm de altura e articulações limitadas.
O Jekyll and Hyde Universal Monsters Select Action Figure foi inspirado na comédia de horror Abbott and Costello Meet Dr. Jekyll and Mr. Hyde, lançada em 1953 e estrelada pela famosa dupla de comediantes como detetives em busca do assassino Dr. Jekyll, vivido pelo ator Boris Karloff. A figura vem com duas cabeças intercambiáveis, uma do Dr. Jekyll com as feições de Karloff e outra desfigurada do Mr. Hyde, além de mãos extras, cartola, capa e base diorama imitando um telhado da Londres victoriana.
Custa US$21,99 na pré-venda da Entertainment Earth.
O Hunchback of Notre Dame Universal Monsters Select Action Figure foi baseado na primeira adaptação cinematográfica do livro de Victor Hugo, O Corcunda de Notre-Dame lançado em 1923 e estrelado com perfeição pelo ator Lon Chaney. A figura captura o corcunda Quasimodo vestido como o Rei dos Tolos com coroa e manto, apoiado sobre base diorama com um dos gárgulas da catedral de Notre-Dame em Paris.
Custa US$21,99 na pré-venda da Entertainment Earth, que aceita encomendas do Brasil.
Veja outras figuras da coleção Universal Monsters Select Line entre muitos brinquedos dos monstros do Universal Studios aqui no Blog de Brinquedo.
Via Entertainment Earth.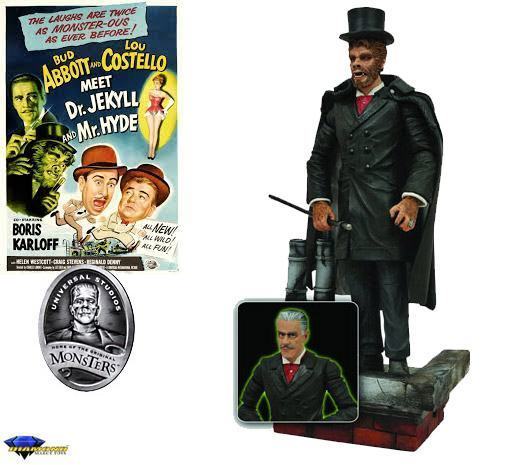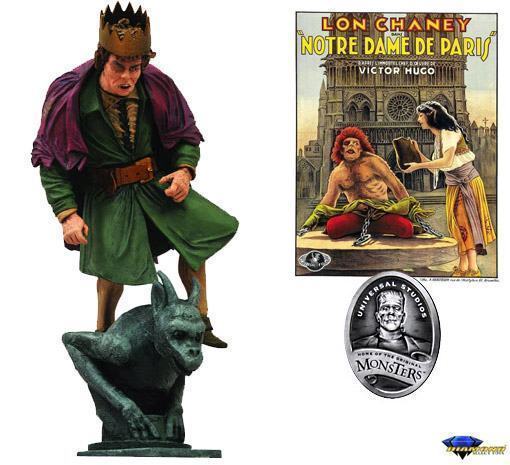 em
Action Figure
Cinema
Horror