Monopólio The Beatles Yellow Submarine Monopoly
Por Dado Ellis em 1 de February de 2013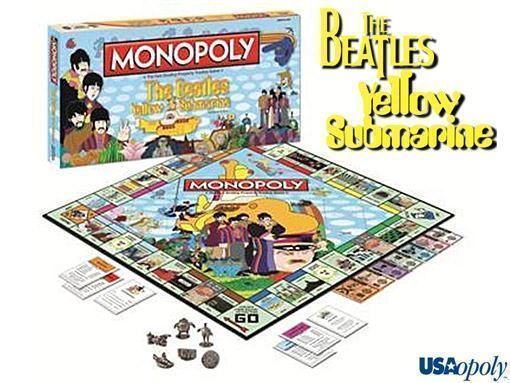 A USAopoly anunciou um novo jogo de tabuleiro Monopólio dos Beatles. Há alguns anos atrás eles já haviam lançado o Beatles Collector's Edition Monopoly com itens da discografia do quarteto britânico.
O The Beatles Yellow Submarine Monopoly tem como tema o famoso desenho animado Yellow Submarine com propriedades e cartas de Pepperland e músicas como "All Together Now", "I Am the Walrus" e "Nowhere Man". As peças colecionáveis feitas de peltre incluem a criatura que odeia música, o Blue Meanie e o Submarino Amarelo entre outros.
O jogo de tabuleiro The Beatles Yellow Submarine Monopoly custa US$34,99 na pré-venda da BigBadToyStore, que aceita encomendas do Brasil.
Veja mais brinquedos dos Beatles e outras versões do jogo Monopólio aqui no Blog de Brinquedo.
Via BigBadToyStore.
em
Jogos
Música
Tabuleiro