Monkeemobile Kit de Montar do Carro da banda The Monkees
Por Dado Ellis em 24 de April de 2012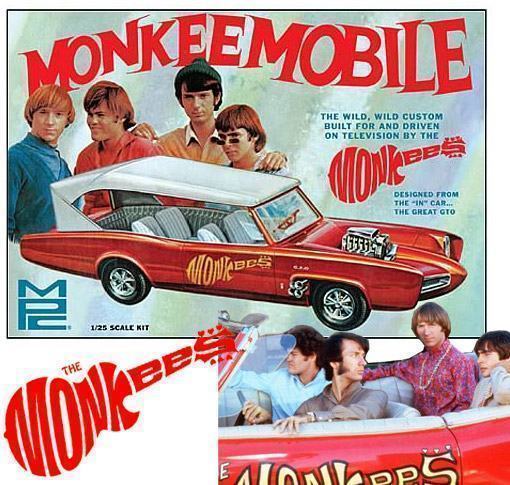 A Round2 Models anunciou o relançamento de um kit de montar clássico dos anos 60, o Monkeemobile um carro "hot rod" usado pela banda The Monkees, uma cópia americana dos Beatles, no seriado de tv The Monkees vencedor de 2 Emmy Awards e veiculado originalmente na NBC de 1966 a 1968.
O kit de montar original tem uma história interessante, pois ele não foi baseado num veículo já existente na série e sim iniciou a criação do carro de verdade. O conceito foi criado pela Model Productions Corporation (MPC), que queria fazer um kit plástico de um carro hot rod customizado com o tema da série, super popular na época. O designer de carros Dean Jeffries, que trabalhava na MPC e no Universal Studios, foi o responsável por transformar dois GTO 1966 Red Convertibles doados pela Pontiac em 2 Monkeemobiles, um para a tv e outro para rodar nos shows de carros nos EUA. Saiba mais no site Old Cars.
O kit Monkeemobile TV Car Model Kit, em escala 1:25, é uma réplica exata do kit originalmente lançado em 1967 com 7 milhões de cópias comercializadas e recorde de vendas da MPC durante décadas. O kit vem com o Pontiac GTO modificado em todos os detalhes, incluindo pneus de vinil soft, folha de decalques expandida da versão original e caixa display para exibir o modelo pronto. A caixa exterior é idêntica a do modelo de 67.
O Monkeemobile Model Kit custa US$24,99 na pré-venda da Entertainment Earth, que aceita encomendas do Brasil.
Visite o site oficial The Monkees.
Veja outros kits plásticos clássicos aqui no Blog de Brinquedo.
Via Entertainment Earth, Dial B for Blog e Old Cars.
Clique abaixo para assistir um clip com a abertura e fechamento da série The Monkees.
Kit original de 1967 (foto do blog Monkees Nuts)
em
Kit de Montar
Música
Televisão