Pepsi Japão Vai Dar Figuras Bearbrick dos Sucessos da Warner Bros!
Por Dado Ellis em 7 de November de 2008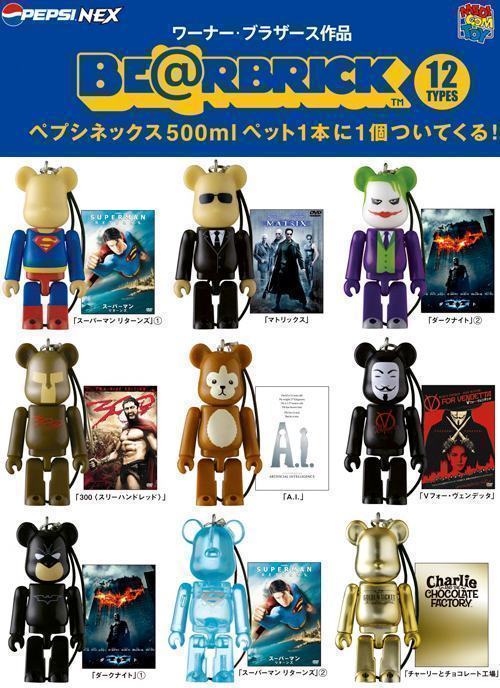 A Pepsi Nex, em conjunto com a Medicom Toys, a Suntory e a Warner Bros. Japan, preparou uma promoção muito especial para dezembro de 2008.
A promoção Pepsi Nex Bearbricks vai dar 12 mini-figuras tipo Be@rbrick (tamanho 70% com 5 cm de altura) inspiradas em 10 grandes sucessos da Warner: Superman Returns, The Matrix Reloaded, Artificial Intelligence: AI, Batman The Dark Knight, 300, V For Vendetta, Happy Feet, Charlie And The Chocolate Factory, Enter The Dragon e a série The O.C.
As mini-figuras Be@rbrick são uma variação das figuras Kubrick. O corpo de um Be@rbrick tem um design estilo "urso" com barriguinha saliente e orelhas de urso.
Os Be@rbricks vão vir de brinde na compra de uma Pepsi Nex, a versão "zero" da Pepsi, no Japão.
Veja também a promoção da Pepsi com Be@rbricks de Star Wars!
Clique em "Continuar lendo" para ver os outros 3 modelos.
em
Cinema
Mini-Figuras