The Beatles Yellow Submarine em Versão Bearbrick!
Por Dado Ellis em 26 de June de 2008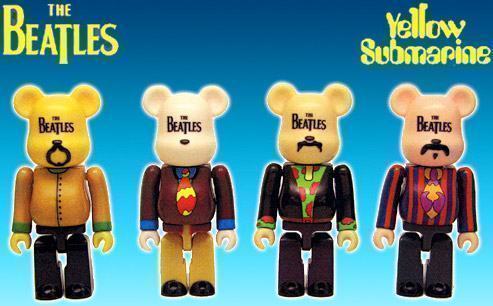 The Beatles Yellow Submarine Be@rbrick Set vem com quatro mini-figuras tipo Be@arbrick da Medicom Toy.
O set captura os Beatles
: John, Paul, George e Ringo no estilo do filme animado Yellow Submarine, dirigido por George Dunning e lançado em 1968.
O Yellow Submarine Be@rbrick Set está em pré-venda na loja japonesa Blister.jp por ¥4.179 (R$62) com entrega prevista para agosto de 2008.
As mini-figuras Be@rbrick são uma variação das figuras Kubrick. O corpo de um Be@rbrick tem um design estilo "urso" com barriguinha saliente e orelhas de urso. Cada mini-figura tem 7 cm de altura.
Veja mais Beatles aqui no Blog de Brinquedo:
Carrinhos dos Beatles!
Bonecas Russas dos Beatles
We All Live in a Yellow Submarine: John Lennon da McFarlane
Figuras Kubrick dos Beatles
O Desenho Animado dos Beatles
Via Blister.jp.
em
Mini-Figuras
Música
Personalidades