Indiana Jones Toy Art da Suckadelic!
Por Dado Ellis em 28 de May de 2008
A Suckadelic criou dois bonecos "bootlegs" para o show Raiders of the Lost Art que acontece dia 31 de maio de 2008 na Capsole, em Los Angeles, com pinturas, brinquedos de pano e bonecos customizados de vinil inspirados em Indiana Jones.
O "Attackers of the Missing Stuff" é uma versão da figura de vinil SuckLord 600 em estilo Indiana Jones. A figura com a cabeça dourada vem com um chicote e com um ídolo de ouro fantasiado de som boombox! Já mostramos aqui no Blog de Brinquedo o Sucklord 600 Boba Fett.
O "TOHT Day Glo Bootleg" com uma versão rosa do vilão Arnold Toht inspirada nas Carded Figures lançadas pela Kenner no início dos anos 80 (foto depois do jump). A figura vem enquadrada em uma moldura de madeira com uma revista em quadrinhos Marvel Raiders of the Lost Ark atrás.
Cada uma das figuras vai ser vendida por US$250 no show Raiders of the Lost Art.
Via Vinyl Pulse.
Clique em "Continuar lendo" para ver o "TOHT Day Glo Bootleg".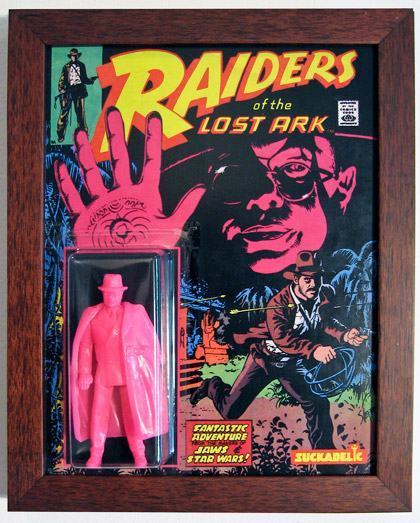 em
Bonecos
Cinema
Toy Art