Batman e Coringa Head Knockers!
Por Dado Ellis em 16 de April de 2008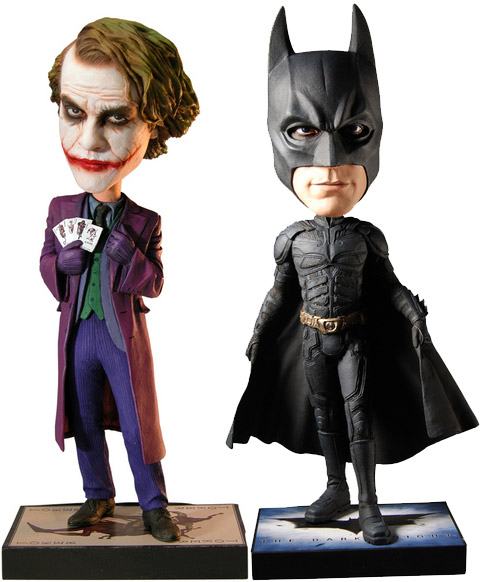 A Neca anunciou uma linha de produtos do filme Batman The Dark Knight. São vários produtos na linha Dark Knight License como pôsteres, chaveiros, despertadores, imãs, quebra-cabeças, canecas, cofrinhos e 2 bonecos Head Knockers.
Os dois Head Knockers do Dark Knight são o Batman Head Knocker, com as feições do ator Christian Bale, e o The Joker Head Knocker, com o rosto do ator Heath Ledger, que faleceu recentemente e que vive o Coringa no último filme do Batman.
A Neca chama de Head Knockers os seus bonecos tipo Bobble Head (cabeça presa ao corpo por uma mola, fica balançando quando tocada). Os bonecos Head Knockers medem aproximadamente 20 cm (8") de altura e são feitos de uma resina que parece cerâmica.
Veja no Digital Drops a Bat-Camiseta que Acende, Pisca e Brilha!
em
Bobble-Head
Cinema
Quadrinhos