Lousa Mágica na Tela da TV
Por Dado Ellis em 27 de January de 2008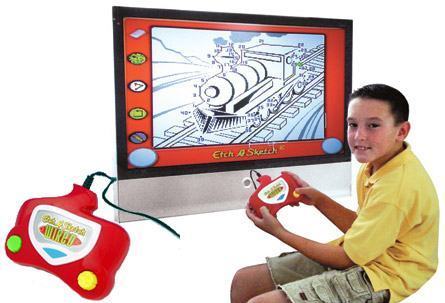 Transforme sua TV em uma Lousa Mágica gigante com o "Deluxe TV Etch A Sketch". É muito fácil, tudo que você precisa fazer é conectar o controle na televisão para transformá-la numa lousinha mágica.
O desenho que você faz com o controle aparece magicamente na tela da TV e para apagar é só balançar o controle. São 4 tipos de atividades para escolher: Cool Drawing Tools, Trace A Pic, Super Sketch e Connecting The Dots.
O "Deluxe TV Etch A Sketch" custa US$12,98 na The Lighter Side Co.
Para desenhar numa lousa mágica online visite o site Etchy.org.
Via Übergizmo.
em
Arte
Eletrônicos