Por Dado Ellis em 11 de April de 2008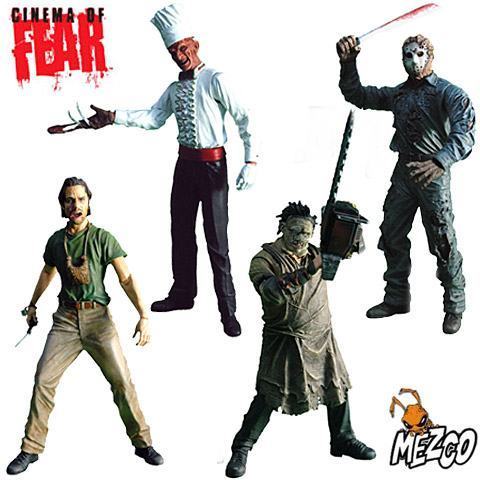 A Mezco Toyz anunciou a terceira edição da sua série Cinema of Fear, com action figures de personagens de filmes de terror.
A Cinema of Fear: Series 3 é formada de quatro bonecos colecionáveis, cada um com aproximadamente 17,8 cm (7") de altura.
Os personagens retratados na série 3 são: Freddy Krueger, do filme A Hora do Pesadelo 5: O Maior Horror de Freddy (A Nightmare On Elm Street 5). Jason Voorhees, do filme Jason vai Para o Inferno: A Última Sexta-Feira (Jason Goes to Hell).
Hitchhiker, do filme original O Massacre da Serra Elétrica (Texas Chainsaw Massacre). E finalmente Leatherface, da refilmagem de Texas Chainsaw Massacre.
As action figures de Cinema of Fear: Series 3 já estão em pré-venda na CornerStoreComics.com por US$16,99 e US$14,99.
Veja também o Jason Voorhees Stylized que mostramos aqui no Blog de Brinquedo.
Clique em "Continuar lendo" para ver fotos individuais.
em
Action Figure
Cinema
Horror