Suéter Freddy Krueger Chest of Souls
Por Dado Ellis em 24 de May de 2013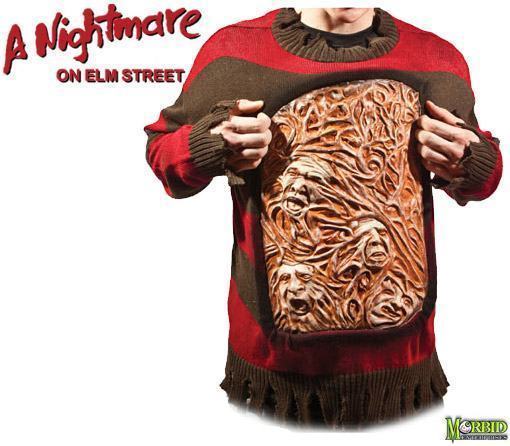 Para ficar horripilantemente aquecido neste inverno sugerimos este singelo suéter do Freddy Krueger com várias almas de adolescentes presas no peito!
A Freddy Krueger Animated Chest of Souls Sweater foi inspirada numa cena do quarto filme, A Nightmare on Elm Street 4: The Dream Master, em que o maníaco vê no espelho, as almas de suas vítimas saindo de seu peito. O mais horrível é que o suéter é animado e as almas penadas se mexem com um movimento doentio com efeitos sonoros de gemidos de sofrimento.
A suéter Freddy Krueger Animated Chest of Souls Sweater é feita pela Morbid Enterprises e custa US$99,99 na pré-venda da Entertainment Earth, que aceita encomendas do Brasil.
Veja mais brinquedos da franquia A Hora do Pesadelo aqui no Blog de Brinquedo.
Via Entertainment Earth.
Clique abaixo para assistir um vídeo com o suéter em ação.
em
Cinema
Horror
Props