Action Figure do Coelho Frank de Donnie Darko!
Por Dado Ellis em 13 de June de 2010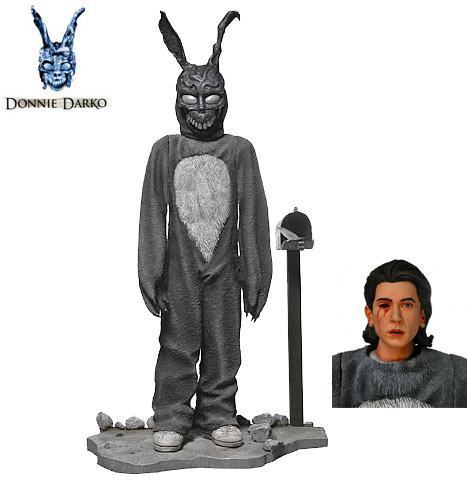 Já imaginou se no meio da noite aparecesse um homem com uma assustadora fantasia de coelho e te dissesse que o mundo iria acabar em 28 dias, 6 horas, 42 minutos e 12 segundos?
A figura Frank the Bunny Talking Action Figure replica em escala 1:6 o terrível coelho do filme Donnie Darko, escrito e dirigido por Richard Kelly.
O Frank the Bunny Talking Action Figure, como o próprio nome já diz, fala 7 frases marcantes do filme como "I can do anything I want. So can you", "Wake up, Donnie" e "Do you believe in time travel?"
A action figure do Frank the Bunny é articulada, mede 30,48 cm de altura e inclui uma cabeça "humana" extra e base diorama com caixa de correio.
O Frank the Bunny custa US$32,99 na Entertainment Earth, que cobra mais US$36,95 de frete para o Brasil. O boneco foi lançado pela Neca em 2006 e está esgotado na maioria das lojas, portanto é bom correr.
Veja também a horripilante fantasia do Coelho Frank aqui no Blog de Brinquedo.
Via Walyou.
em
Action Figure
Cinema
Horror