Cuidado com o Cão Raivoso!
Por Dado Ellis em 17 de October de 2007
Para irritar um cachorro facilmente é só roubar o osso dele! No jogo "Don't Wake The Dog" você tem que roubar os ossinhos sem acordar a fera.
O jogo é bem simples, você tira uma carta que diz qual a cor e quantos ossos você deve pegar. Com a pinça você tem que roubar os ossos determinados sem acordar o cão, que é bravo e vai tentar morder sua mão se for despertado.
O cão lembra o bulldog mal-humorado do desenho Tom e Jerry e o jogo Don't Wake The Dog custa £14,95 na Firebox.com.
Via Coolest Gadgets.
Clique em "Continuar lendo" para ver outras fotos.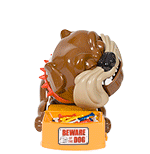 em
Jogos