Por Dado Ellis em 11 de October de 2012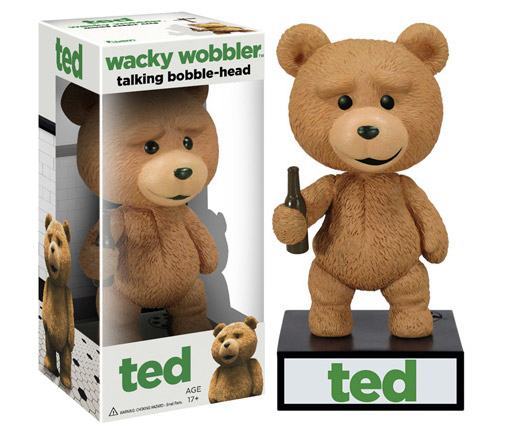 O filme Ted, escrito e dirigido por Seth MacFarlane com Mark Wahlberg e Mila Kunis, fez um enorme sucesso ao redor do mundo, inclusive aqui no Brasil onde houve até tentativa de censura de um deputado ofendido.
O Ted – Talking Wacky Wobbler é uma versão bobble head do ursinho mais politicamente incorreto do cinema feito pela Funko. O boneco fala quatro frases do filme quando a cabeça balança, mas nenhum palavrão (frases depois do jump).
O Ted Bobble Head custa US$14,99 na pré-venda da Clark Toys.
Veja também o urso Ted de Pelúcia aqui no Blog de Brinquedo.
Via Clark Toys.
Frases do Ted Bobble Head:
1. Hey Johnny, how bout a beer huh? Ooh, couple of Charles Brewkowski's?
2. That's my bad I was sending a tweet.
3. I love you girls, you know, somewhere out there are four terrible fathers I wish I could thank for this great night.
4. Maybe you should say no to a snickers bar every once in awhile.
em
Bobble-Head
Cinema