Autoramas Star Wars: TIE Fighter vs. X-Wing e Batalha de Endor
Por Dado Ellis em 17 de February de 2012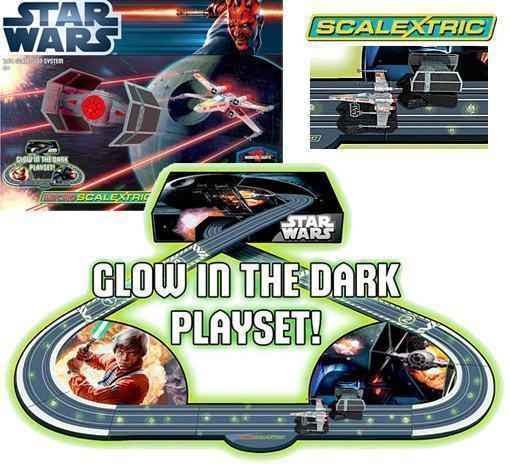 Quando penso que já vi todos os tipos de brinquedos Star Wars possíveis e imagináveis, a companhia britânica Scalextric surpreende anunciando dois autoramas de Star Wars, sendo que um deles com TIE Fighter e X-Wing!
O autorama Micro Scalextric Death Star Attack Star Wars Set reencena uma batalha entre o caça X-Wing de Luke Skywalker e o TIE-Fighter de Darth Vader com naves iluminadas por LEDs e em escala bem pequena, apenas 1:64, com 3,78 metros de pista fosforescente.
O autorama Death Star Attack Slot Track custa £69.99 na pré-venda do site inglês Scalextric Shop.
O Scalextric Start Battle of Endor Star Wars Set é maior que o outro set, agora em escala 1:32 com 4,3 metros de pista, e replica a famosa batalha com a speed bike de Luke Skywalker sendo perseguida por um Biker Scout. A pista vem decorada com cenas do filme nas laterais, incluindo Ewoks, AT-ST, AT-AT, Stormtroopers, o C-3PO e o R2-D2.
O autorama Battle of Endor Star Wars Slot Set custa £99,99 na pré-venda da Scalextric Shop.
Os dois sets de autoramas usam a tecnologia Magnatraction com um imã neodímio embaixo do carro, mantendo-o na pista e possibilitando maior velocidade e estabilidade nas curvas e aceleração nas retas.
Veja outros Autoramas aqui no Blog de Brinquedo, incluindo outros Autoramas Scalextric.
Via technabob.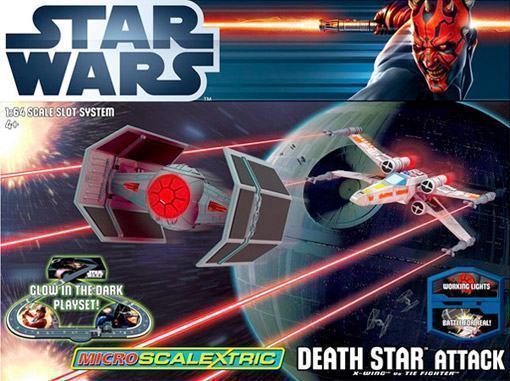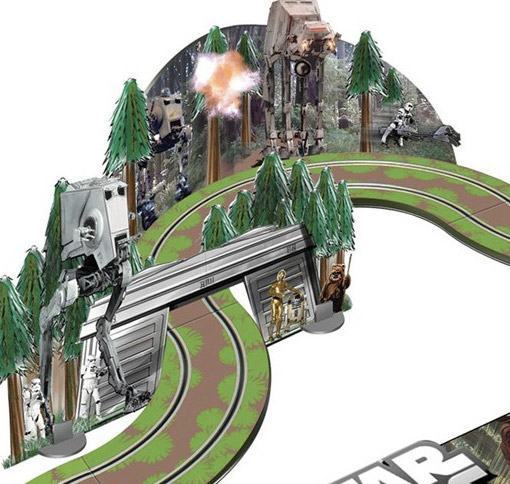 em
Cinema
Star Wars