Diorama Pato Donald na Capa do Gibi "Donald Duck and Yellow Beak" de 1942
Por Dado Ellis em 5 de November de 2011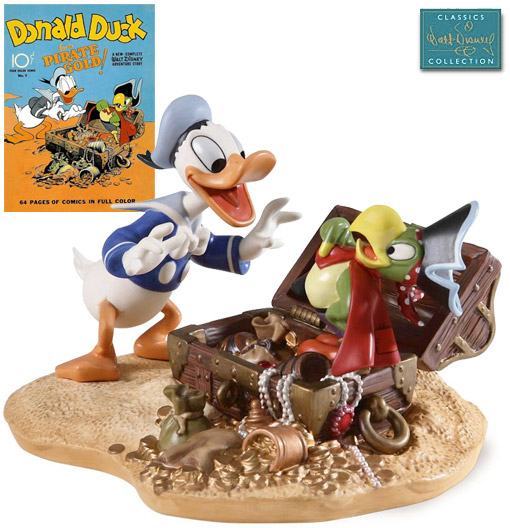 Adoro quando a Walt Disney Classics Collection homenageia as capas clássicas dos gibis Disney como neste diorama da revista Donald Duck finds Pirate Gold Donald – One Shot #9.
O diorama Donald Duck and Yellow Beak reproduz em argila a capa da primeira aparição do Pato Donald na revista Donald Duck Four Color, em outubro de 1942, parte da série de gibis Four Color Comics publicada pela Dell Comics entre 1939 e 1962. O diorama mede 14 cm de altura por 21 de largura.
O roteiro de Donald Duck finds Pirate Gold foi escrito por Bob Karp e a ilustração foi de Carl Barks, em sua estreia como ilustrador de quadrinhos, e Jack Hannah. O argumento inicial foi desenvolvido para ser um desenho animado nunca produzido do Mickey, chamado "Morgan's Ghost", e posteriormente adaptado para os quadrinhos assim como muitas outras ideias não aproveitadas da Disney e usadas pela Dell Comics.
O diorama Donald Duck and Yellow Beak custa US$210 na Amazon.com.
Veja outras figuras da Walt Disney Classics Collection e mais brinquedos do Pato Donald aqui no Blog de Brinquedo.
Via Enesco.
em
Disney
Estátuas e Bustos
Quadrinhos