Monopólio da Banda AC/DC
Por Dado Ellis em 12 de September de 2011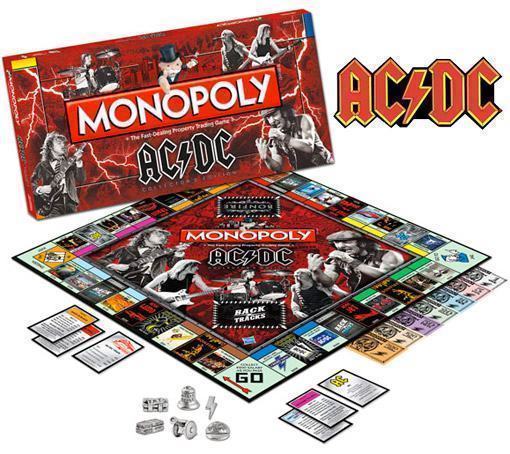 Quem acha que Monopólio não é um jogo Rock 'n' Roll, é porque ainda não viu o novo Monopólio da banda australiana AC/DC feito pela USAopoly.
O AC/DC Collector's Edition Monopoly vai deixar os fãs do rock sentados horas a fio comprando e negociando álbuns ou shows internacionais do AC/DC usando cartas de chance renomeadas de Disco de Ouro e Disco de Platina. As 6 peças, feitas de peltre, também são temáticas e homenageiam discos diferentes da famosa banda: Canhão ("For Those About To Rock"), Dinamite ("T.N.T."), Sino ("Hells Bells"), Raio ("Thunder Struck"), Boné Escolar do Angus ("School Days"), Bolo de Dinheiro ("Money Talks").
O jogo Monopólio do AC/DC custa US$33,99 na pronta entrega da Entertainment Earth. A loja aceita encomendas do Brasil e eu vou logo garantir o meu!
Veja também outras versões Rock 'n' Roll do clássico jogo Monopólio aqui no Blog de Brinquedo: Monopólio Metallica e o Monopólio The Rolling Stones.
Clique abaixo para ver mais imagens.
em
Jogos
Música
Tabuleiro