Doctor Who 3 Mini-Sets em Estilo LEGO
Por Dado Ellis em 14 de June de 2011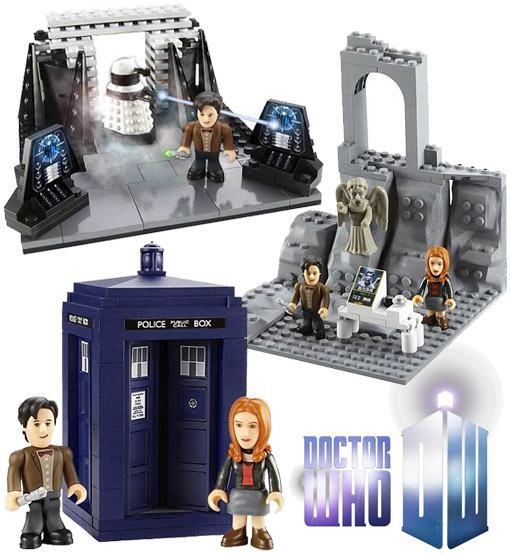 Já que não tem LEGO Doctor Who, a Underground Toys se encarregou de criar três mini-sets de blocos de construir, compatíveis com LEGO, da famosa série de sci-fi britânica.
O Character Building Time of Angels Mini Set recria o quarto episódio da quinta temporada e vem com três micro-figuras articuladas, Doctor, Amy Pond e Weeping Angel. O Character Building Dalek Progenitor Room Mini Set recria a sala do Progenitor Chamber na Nave Dalek e vem com micro-figuras do décimo primeiro Doctor e Dalek: The Supreme.
O set que gostei mais foi o Character Building TARDIS Mini Set com a nave espacial/temporal que tem a forma de uma cabine de polícia londrina dos anos 50 e micro-figuras do Doctor e Amy Pond. A nave TARDIS (Time and Relative Dimensions in Space) é muito maior dentro do que do lado de fora e funciona como meio de transporte e casa do Lorde do Tempo.
Os três sets são compatíveis com blocos LEGO e custam US$18,99 na pré-venda da Entertainment Earth, que aceita encomendas do Brasil.
Veja outros brinquedos do Doctor Who aqui no Blog de Brinquedo.
Via Entertainment Earth.
em
Doctor Who
Lego
Sci-Fi
Televisão