The Twilight Zone: Mystic Seer da Série Além da Imaginação (Versão em Cores)
Por Dado Ellis em 15 de April de 2010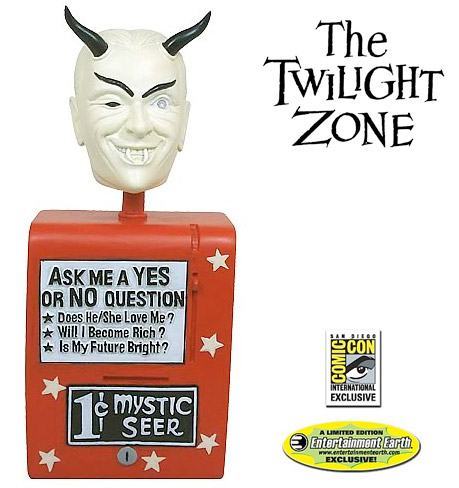 A Bif Bang Pow anunciou uma versão colorida e exclusiva do Mystic Seer Bobble Head Preto e Branco, feita especialmente para a San Diego Comic-Con 2010.
O Twilight Zone Mystic Seer Bobble Head – Color é a versão em cores da máquina vidente do episódio "Nick of Time", estrelado por William Shatner em 1960, da clássica série The Twilight Zone.
O Bobble Head do Mystic Seer colorido de Além da Imaginação mede 16,5 cm de altura e está em pré-venda na Entertainment Earth por US$14,99. A edição é limitada em 1.500 peças e a entrega é só depois da SDCC-2010.
Veja outros brinquedos da série The Twilight Zone / Além da Imaginação aqui no Blog de Brinquedo, incluindo a versão preto e branco Mystic Seer BW.
Via Bif Bang Pow.
em
Bobble-Head
Televisão