Kit com Pistas da Visita de Papai Noel!
Por Dado Ellis em 10 de December de 2009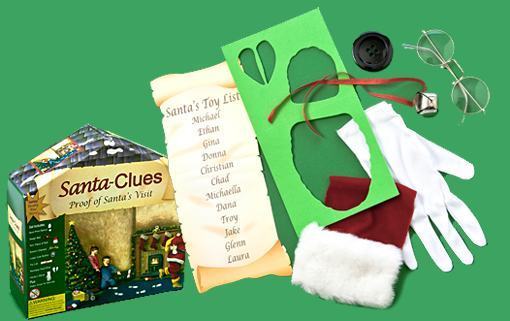 A cada dia que passa as crianças deixam de acreditar em Papai Noel mais cedo. Para tentar prolongar um pouco essa época mágica da infância, você pode espalhar pela casa pistas da visita do bom velhinho.
O kit Santa-Clues – Proof of Santa's Visit vem com pistas que irão provar para a criançada que Papai Noel visitou sua casa!
O kit Santa-Clues vem com um par de óculos, um pedaço de pano vermelho, um botão de casaco, um sininho, uma lista de presentes e uma luva, além de pegadas da bota de Papai Noel e das renas. As crianças podem continuar não acreditando em Papai Noel, mas a manhã de Natal vai ter diversão garantida.
O kit Santa-Clues custa US$14,95 na The Spoon Sisters.
Veja outros brinquedos natalinos aqui no Blog de Brinquedo.
Via Nerd Approved.
em
Natal