Réplica do Robô Clássico Robert the Robot Original de 1954!
Por Dado Ellis em 18 de October de 2009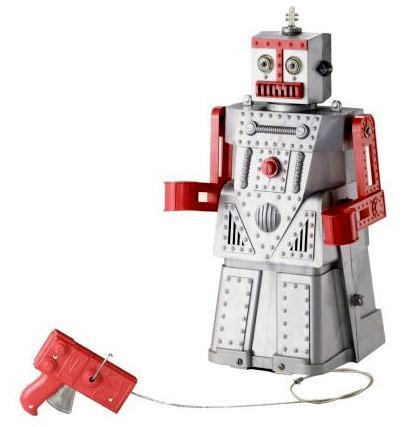 Muito legal a réplica do Robert the Robot o primeiro robô de brinquedo feito de plástico a ser vendido nos Estados Unidos em 1954.
O novo Robert the Robot é uma replica fiel, recriado das formas originais da Ideal Toys. O robô com controle remoto de fio e movido a corda, acende os olhos e fala a frase: "I am Robert Robot, mechanical man. Drive me and steer me, wherever you can".
O Robert the Robot Golden Anniversary Edition vem com Certificado de Autenticidade numerado e Collector's Manual com a história de Robert the Robot e outras curiosidades.
O novo Robert the Robot custa US$81,95 na Amazon.
Veja outros robôs aqui no Blog de Brinquedo.
em
Robôs