Bacon de Pelúcia!
Por Dado Ellis em 12 de October de 2008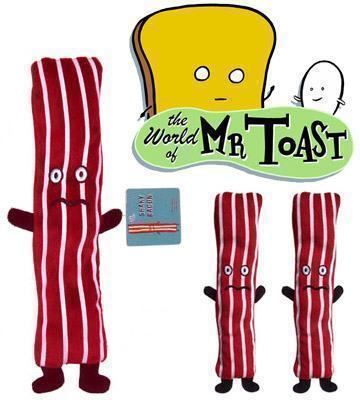 O mundo The World of Mr. Toast, criado por Dan Goodsell, é habitado por divertidos personagens, bem diferentes do que estamos acostumados.
Shaky Bacon é vizinho do Mr. Toast e adora uma fofoca! O boneco de pelúcia do Shaky Bacon está disponível em dois tamanhos: 25 cm (10") por US$7 e 33 cm (13") de altura por US$10. Muito legal!
Os bonecos de pelúcia do World of Mr. Toast podem ser comprados no site Mr. Toast Dolls, que aceita PayPal e envia encomendas para o Brasil (o custo do frete é de apenas US$3).
Veja também o Vampire Toast).
Espero que todos tenham tido um ótimo Dia das Crianças!!
Via Plastic and Plush.
em
Pelúcia e Pano
Toy Art