Porta-Balas Pez Conta a História de Elvis Presley!
Por Dado Ellis em 24 de September de 2008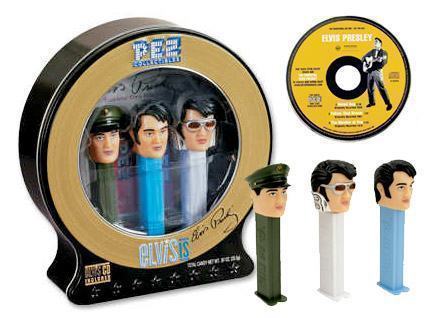 A bala Pez foi inventada pelo confeiteiro austríaco Eduard Haas III, em 1927, misturando açúcar e óleo de hortelã.
Em 1955 foram lançados os primeiros porta-balas com cabeça de personagens diversos (até então eles pareciam um isqueiro comum). Papai Noel e Mickey Mouse foram os primeiros personagens famosos a aparecerem nos porta-balas Pez. Até hoje já foram criados mais de 550 designs diferentes de porta-balas, que podem atingir preços altíssimos entre os colecionadores.
Um bom exemplo de porta-balas Pez que vai virar item colecionável é o set Elvis Tin: 3 Decades of Elvis com 3 porta-balas do Rei do Rock Rock 'n' Roll!
O set vem com três porta-balas exclusivos, dentro de uma latinha com tampo transparente, que retratam três momentos importantes da vida e da história de Elvis: o 1958 G.I. Elvis, o 1968 Comeback Special Elvis e o 1973 Aloha From Hawaii Elvis.
Junto com o set vem um CD especial com três grandes sucessos de Elvis Presley: "Hound Dog," "Follow That Dream" e "The Wonder Of You". Além de 3 pacotes de bala "PEZ Cola candy".
O set "Elvis Tin: 3 Decades of Elvis" custa US$19,99 na PEZ Factory Store.
Veja também o Porta-Balas Pez do Robô B-9 de Perdidos no Espaço ou outros brinquedos de Elvis Presley aqui no Blog de Brinquedo.
Via bookofjoe.
em
Música
Personalidades