Versão Estilizada do Assassino Maníaco Leatherface!
Por Dado Ellis em 12 de August de 2008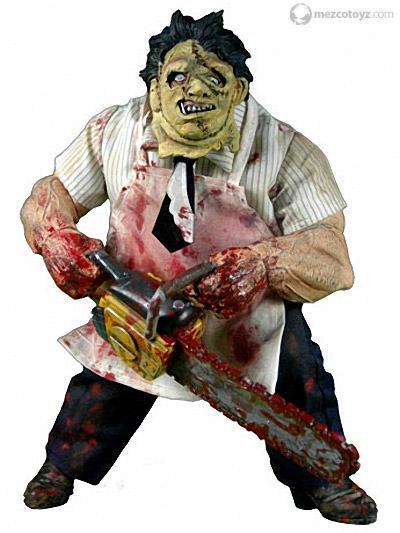 A Mezco anunciou o lançamento da segunda action figure da sua coleção Cinema of Fear Stylized. A primeira figura da série foi o Jason Voorhees Stylized 9″, que já mostramos aqui no Blog de Brinquedo.
A nova figura estilizada da Mezco é o infame assassino psicopata Leatherface da série de filmes de terror O Massacre da Serra Elétrica
.
O Cinema of Fear Stylized 9″ Leatherface vem com uma serra elétrica, balde cheio de sangue e coisas nojentas, machadinha ensangüentada, faca com cabo de osso e avental removível.
A action figure do maníaco Leatherface mede aproximadamente 22,8 cm de altura, tem 13 pontos de articulação e vem vestido com roupas de tecido.
O Leatherface Stylized está em pré-venda no site da Mezco Toyz por US$30.
UPDATE: O "Leatherface" também está em pré-venda na Sideshow Collectibles por US$29,99. A Sideshow aceita encomendas do Brasil.
Veja outros produtos da coleção Cinema of Fear da Mezco Toyz:
É Hora do Medo: Cinema of Fear – Série 3
Jason Vorhees em Cinema of Fear
Bonecos de Terror Feitos de Pano – Cinema of Fear 2
Boneco de Pano de Jason, o Maníaco de Sexta Feira 13
Visite o site oficial The Texas Chainsaw Massacre.
em
Bonecos
Cinema
Horror