Universal Monsters Head Knockers
Por Dado Ellis em 1 de July de 2008
A Neca tem uma grande coleção de bonecos tipo Bobble Head, que ela batizou de "Head Knocker". Entre os vários Head Knockers disponíveis, uma das linhas mais legais é a inspirada nos monstros dos filmes clássicos do Universal Studios.
São sete Universal Monsters Head Knockers coloridos com aproximadamente 20 cm de altura. Todos feitos em resina de alta qualidade com acabamento feito à mão.
Os monstros que viraram Head Knockers coloridos, e estão na imagem acima, são: o vampiro Drácula baseado no clássico filme Dracula, de 1931, com o ator Béla Lugosi.
O monstro do Dr. Frankenstein, com as feições do ator Boris Karloff
, e sua noiva Bride of Frankenstein, vivida por Elsa Lanchester no filme A Noiva de Frankenstein
.
E ainda tem mais: o Creature from the Black Lagoon Head Knocker do clássico de horror e ficção científica O Monstro da Lagoa Negra
, dirigido por Jack Arnold e lançado nos cinemas em 1954 pelo Universal Studios.
A Múmia terrível Mummy Head Knocker do filme de 1932 The Mummy, também com Boris Karloff
.
Inspirado no filme The Phantom of the Opera
de 1925, o horroroso Phantom of the Opera Head Knocker e por último o Wolfman do filme The Wolf Man Head Knocker.
Além dos Head Knockers coloridos dos Monstros da Universal a Neca também tem versões dos bonecos em preto e branco. Veja fotos depois do jump.
Veja outros brinquedos inspirados nos filmes clássicos de terror do Universal Studios:
Frankenstein – O Monstro e Sua Noiva
Diorama do Conde Drácula!
Kubricks dos Monstros Clássicos da Universal
O Monstro da Lagoa Negra
Os Head Knockers estão à venda na loja Monsters in Motion por US$16.
Via Neca Online.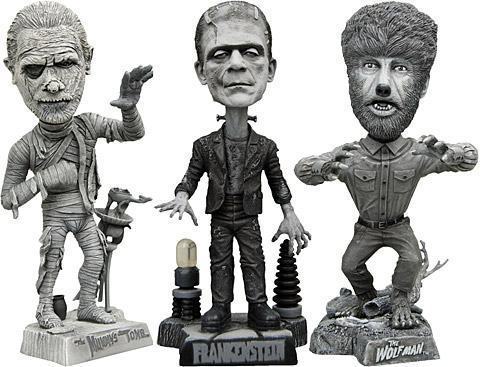 Mummy Black & White, Frankenstein Black & White e Wolfman Black & White.
em
Bobble-Head
Cinema
Horror