Coringa e Batman da Medicom Toy
Por Dado Ellis em 19 de July de 2008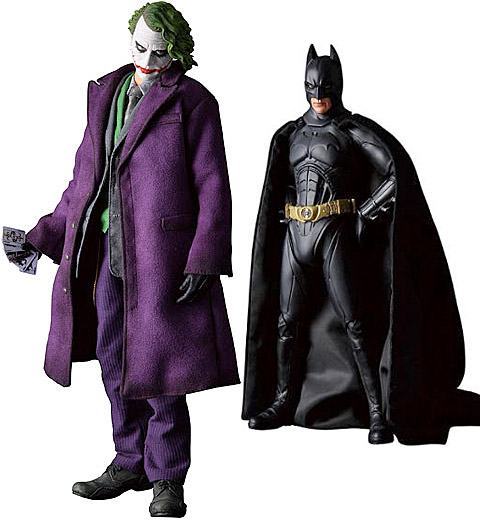 A excelente linha de action figures RAH – Real Action Heroes da companhia japonesa Medicom Toy não podia ficar de fora da onda de brinquedos do Batman desencadeada pelo lançamento do filme The Dark Knight.
Direto do filme o Joker RAH – Why So Serious? em escala 1:6 captura com exatidão o jeito e as feições do ator Heath Ledger. A figura, que mede aproximadamente 30,5 cm da altura, vem vestida com roupa do filme e com um baralho do Coringa como acessório.
O Joker RAH custa US$128 e está em pré-venda na loja Angolz, que fica em Hong Kong e envia para o Brasil o boneco do Coringa por mais US$33,74.
Veja mais Brinquedos do Coringa!
O Batman Begins Suit RAH – Welcome to a World Without Rules vem com a armadura do filme Batman Begins
, também com Christian Bale (veja uma resenha do filme no Omelete). A figura que mede 30 cm de altura, também em pré-venda na Angolz por US$128 mais US$33,74 de taxa de entrega no Brasil (mais impostos).
Cada boneco vem com um cupom que dará direito a um bônus na compra da figura "Bruce Wayne RAH", que ainda não foi divulgada.
Veja mais Brinquedos do Batman!
Via I Like Toys.
em
Action Figure
Cinema