Bons Sonhos com Freddy Krueger!
Por Dado Ellis em 18 de April de 2008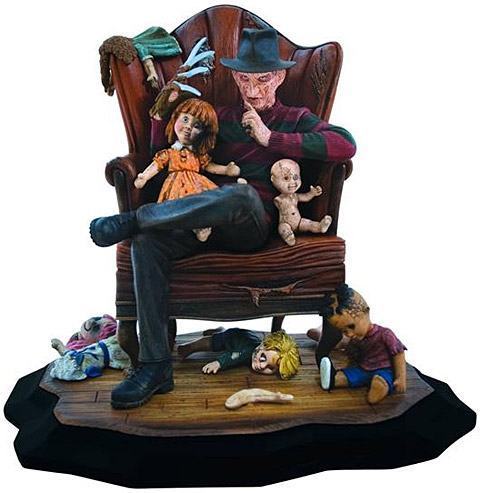 Você acha que está seguro enquanto dorme? Isso é porque você não mora em Elm Street onde Freddy Krueger pode visitar os seus sonhos!
A Gentle Giant anunciou, para novembro de 2008, uma exclusiva maquete com Freddy Krueger sentado em uma poltrona cercado de bonecas assustadoras. O assassino do filme A Hora do Pesadelo
(Nightmare On Elm Street) vai ficar ótimo na estante do quarto velando o seu sono!
A maquete de Freddy Krueger tem aproximadamente 17,8 cm de altura e vem numerada à mão e acompanhada de um certificado de autenticidade.
A Freddy Krueger Statue está em pré-venda na BigBadToyStore por US$119,99.
Veja mais Freddy Krueger aqui no Blog de Brinquedo:
Bonecos de Terror Feitos de Pano – Cinema of Fear 2
É Hora do Medo: Cinema of Fear – Série 3!
em
Cinema
Estátuas e Bustos
Horror