Bonecos de Terror Feitos de Pano – Cinema of Fear 2
Por Dado Ellis em 15 de April de 2008
A Mezco Toys anunciou o lançamento de três bonecos de pano da segunda série Cinema of Fear Roto Plush.
A Cinema of Fear Roto Plush Series 2 captura o lado fofo de três assustadores personagens de terror:
Freddy Krueger vestido de smoking como no filme A Hora do Pesadelo: Os Guerreiros dos Sonhos
(A Nightmare On Elm Street 3).
Jason Voorhees, antes de usar a famosa máscara de hockey, cobrindo a cabeça com um saco de batatas com um furo e com uma picareta na mão. Inspirado no filme Sexta-Feira 13 Parte 2
(Friday the 13th Part 2).
Leatherface com a máscara usada no filme O Massacre da Serra Elétrica 2
(Texas Chainsaw Massacre 2), vestido de terno e segurando a terrível serra elétrica na mão.
Cada um dos bonecos mede aproximadamente 33 cm de altura. As cabeças, mãos e pés são feitos de plástico "roto-cast", as roupas são de tecido e o corpo é de pano com enchimento.
A Mezco vai apresentar os protótipos da Series 2 na New York Comic Con e o lançamento oficial está programado para o Halloween.
Veja também:
É Hora do Medo: Cinema of Fear – Série 3!
Jason Vorhees em Cinema of Fear
Via Cool Toy Review.
Clique em "Continuar lendo" para ver imagens individuais.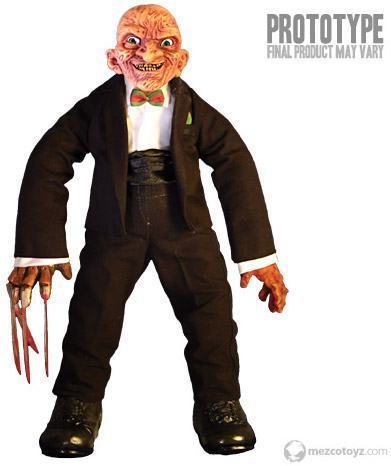 em
Cinema
Horror
Pelúcia e Pano