O Robô de Forbidden Planet: Robby the Robot!
Por Dado Ellis em 26 de January de 2008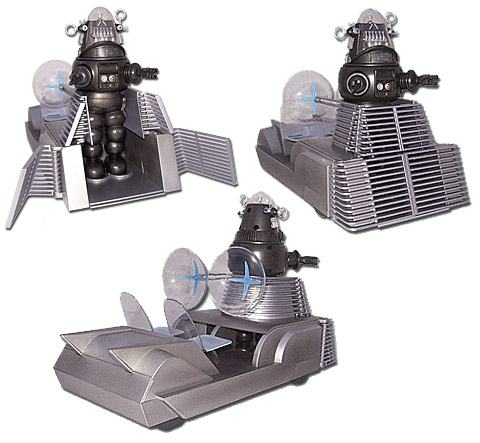 Um dos robôs mais famoso do cinema é Robby the Robot do clássico de ficção científica Forbidden Planet, dirigido por Fred M. Wilcox em 1956, e baseado na peça de William Shakespeare A Tempestade.
A réplica de Robby the Robot, feita pela X-Plus, vem com o Altair IV Transporte, que abre a porta para que Robby entre e saia.
Feito de metal fundido e plástico o boneco Robby the Robot tem 17,8 cm de altura e o Transporte tem 28 cm de comprimento. A figura de Robby tem vários pontos de articulação, entre eles a cabeça, cintura, ombros, joelhos e tornozelos.
O conjunto Robby the Robot com o Altair IV Transporte custa US$149,95 na RoboToys.
Via DVICE.
em
Bonecos
Robôs
Sci-Fi