O Ano do Rato, Mickey e Minnie Action Figures
Por Dado Ellis em 31 de January de 2008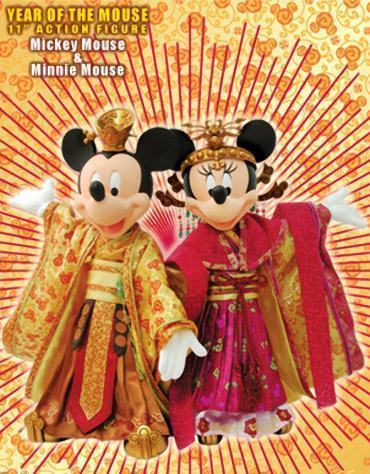 Para comemorar o Ano do Rato, do calendário Chinês, a Hot Toys, de Hong Kong, anunciou 2 bonecos colecionáveis do Mickey e da Minnie.
O bonecos medem aproximadamente 28 cm de altura e pela primeira vez os ratos da Disney tem um estilo chinês. O Chinese Style MICKEY MOUSE vem vestido com uma roupa de Imperador detalhada, Coroa Imperial e sapatos chineses dourados.
A Chinese Style MINNIE MOUSE vem com uma Coroa Imperial com jóias penduradas e com uma elegante e extremamente detalhada roupa de Imperatriz Chinesa. Também acompanha a Minnie uma capa, um cachecol e sapatos dourados. O lançamento está previsto para o primeiro semestre de 2008.
UPDATE: A Sideshow Collectibles colocou em pré-venda o Mickey e a Minnie Chinese Style da Hot Toys. Cada um custa US$124,99 e você pode reservar o seu clicando nos links: Mickey 'Year of the Mouse' Collectible Figure e Minnie 'Year of the Mouse' Collectible Figure.
Via Action Figure Hub.
em
Action Figure
Disney