Kubricks dos Monstros Clássicos da Universal
Por Dado Ellis em 6 de January de 2008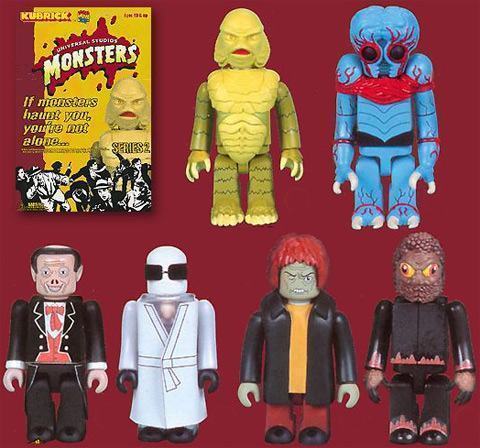 Uma das coleções mais legal da linha de mini-figuras Kubrick, da Medicom Toys, é a Universal Monsters com Kubricks dos clássicos filmes de terror da Universal.
São duas séries de Kubricks da Universal. Cada série com 6 monstros:
A Universal Monsters Series 2 (foto acima) é composta da Creature from the Black Lagoon (monstro da lagoa negra), Metaluna Mutant (do filme This Island Earth), The Phantom (do Fantasma da Ópera), Invisible Man (homen invisível com ataduras), The Hunchback (corcunda de Notre Dame) e Mole Person (do filme Mole People). A Series 2 ainda está sendo vendida pela loja Very Cool Things por US$5,99 cada Kubrick.
A Universal Monsters Series 1 (fotos após o jump) com os seguintes monstros: Frankenstein's Monster, Bride of Frankenstein, Dracula, Mummy, Wolf Man (do filme The Wolf Man) e o Dr. Frankenstein. A Series 1 está, infelizmente, esgotada e talvez se possa encontrar uma ou outra mini-figura no Ebay.
Visite nossa seção de Kubrick e Minimate.
Veja também outros monstros da Universal que viraram brinquedos:
O Monstro da Lagoa Negra
Frankenstein – O Monstro e Sua Noiva
Via Very Cool Things.
Clique em "Continuar lendo" para ver outras fotos.

Universal Monsters Series 1

Series 1: Dr. Frankenstein e Dracula.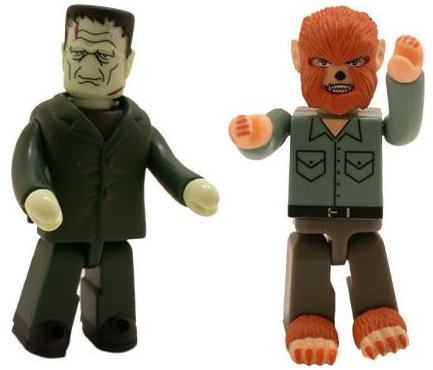 Series 1: Frankenstein's Monster e Wolf Man.

Series 1: Mummy

Series 2: The Hunchback e Mole Person

Series 2: Invisible Man
em
Cinema
Horror
Mini-Figuras