Jason em Sua Tumba Submarina
Por Dado Ellis em 31 de October de 2007
Outra clássica série de filmes de terror é Friday the 13th (Sexta Feira 13) e a Sideshow Collectibles anunciou hoje uma nova escultura de Jason Voorhees como parte da linha "Horror Scream Scene".
A maquete retrata o Jason do filme Friday the 13th Part VII, acorrentado no fundo do Crystal Lake antes que Tina Shepard o ressuscite e o banho de sangue comece mais uma vez!
O diorama, rico em detalhes, é feito de resina de polystone com acabamento e numeração feitos à mão. A estatueta Jason tem edição limitada e vai estar disponível para entrega no primeiro semestre de 2008, mas já está em pré-venda na Sideshow Collectibles por US$199,99 e provavelmente não vai demorar muito para se esgotar.
Visite o site oficial Friday the 13th Films.
Via Behind The Show.
Clique em "Continuar lendo" para ver outras fotos.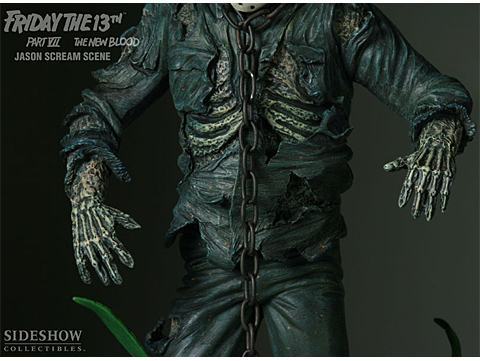 em
Cinema
Estátuas e Bustos
Horror