As Figuras da Família Simpson pela McFarlane Toys
Por Dado Ellis em 5 de September de 2007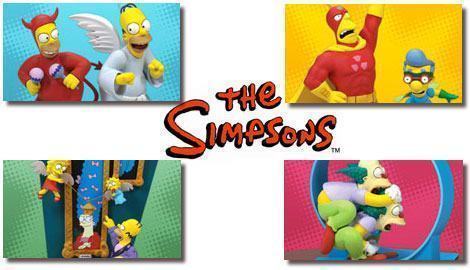 A McFarlane Toys divulgou as primeiras fotos da sua nova coleção de figuras dos Simpsons.
A coleção The Simpsons' Series 2 tem 4 figuras e vai ser lançada em dezembro de 2007. A nova coleção vem para complementar a linha Simpsons da McFarlane que já conta com a The Simpsons' Series 1, lançada em março, com 5 figuras e a coleção comemorativa do filme The Simpsons Movie, lançada em julho, com toda a família sentada no cinema..
As figuras que irão compor a Série 2 são: Radioactive Man & Fallout Boy, Good/Evil Homer, Homer & Krusty of Homie The Clown, e Treehouse of Horrors I: The Raven.
Compre as figuras dos Simpsons na Amazon
UPDATE: Visite o site especial que a McFarlane Toys lançou para mostrar todos os detalhes da coleção The Simpsons' Series 2.
em
Bonecos
Cinema
Televisão