Um Hannibal Lecter com 45 cm de Altura
Por Nick Ellis em 26 de June de 2007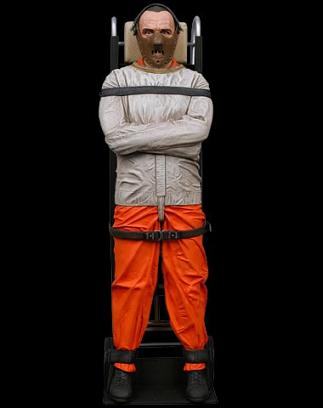 Este post é para maiores de 18 anos. Sério mesmo! Todas as crianças devem passar longe do Dr. Lecter, para evitar pesadelos. Mesmo os papais que, como eu, adoraram a impecável atuação de Anthony Hopkins no filme "O Silêncio dos Inocentes" e curtiram o filme "Hannibal Rising" podem ter alguns problemas para dormir sob o mesmo teto deste boneco de 45 cm que fala algumas frases do filme como "Good evening, Clarice".
O boneco foi feito pela Neca e custa US$ 39 lá fora. Agora ouça o meu conselho, se você tiver uma namorada ou esposa, acho que ela não vai gostar nada da idéia de ter o Dr. Lecter na sala. Além deste, eu ainda descobri outro boneco do Hannibal, em outra cena famosa, confira depois do jump.
Via Nerd Approved.
Clique abaixo para ver o outro boneco e saber as outras frases.
"A census taker once tried to test me. I ate his liver, with some fava beans and a nice chianti", "Quid pro quo, yes or no?" e "Pity about poor Katherine though, tick tock, tick tock, tick tock".
Na Amazon existem outros modelos de Hannibal feitos pela Neca como este:
em
Action Figure
Cinema
Horror