Pufe Beatles Sgt. Pepper's Lonely Hearts Club Band
Por Dado Ellis em 9 de September de 2013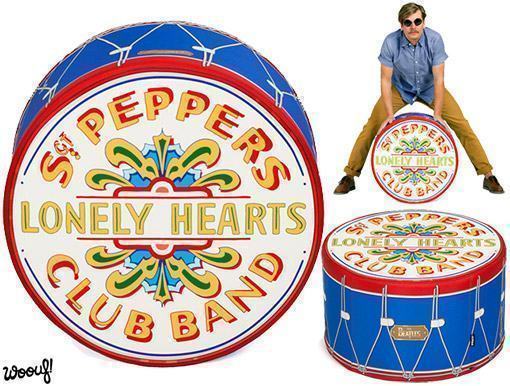 Muito maneiro este pufe criado pela espanhola Woouf em homenagem a um dos discos mais importantes do século XX. Sgt. Pepper's Lonely Hearts Club Band foi o oitavo álbum oficial dos Beatles, lançado em 1967, e eleito pela revista Rolling Stone para o primeiro lugar de uma lista dos 200 álbuns definitivos no Rock and Roll Hall of Fame.
O pufe Woouf Sergeant Peppers Drum Bean Bags tem a icônica forma do tambor que ilustra a fantástica capa do disco, criada pelo artista pop Sir Peter Blake com o rosto de várias celebridades. O pufe tem capa 100% poliéster removível, interior de espuma e mede 60cm largura por 35cm de altura.
O pufe Sergeant Peppers Drum Bean Bags custa €175 na Woouf E-Shop.
Veja outros Pufes e mais brinquedos dos Beatles aqui no Blog de Brinquedo.
Via Retro to Go.
em
Destaques
Música
Pelúcia e Pano