Doctor Who Action Figures: 5 Companheiras do Doctor
Por Dado Ellis em 12 de August de 2013
Qual a sua companheira preferida do Doctor? A Underground Toys anunciou uma coleção de action figures com algumas das companheiras mais memoráveis da série Doctor Who.
O set Doctor Who 5-Inch Companion Action Figure Pack vem com action figures articuladas, com 12,7 cm de altura, de cinco companheiras do Doctor: Sarah Jane Smith uma das companheiras que mais atuou na série, durante os termos do 3º e do 4º Doctor, vivida por Elisabeth Sladen e acompanhada do cão robótico K-9; Rose Tyler companheira do 9º e do 10º Doctor interpretada pela atriz Billie Piper; Martha Jones companheira do 10º Doctor vivida pela atriz Freema Agyeman; Astrid Peth interpretada por Kylie Minogue e companheira do 10º Doctor apenas no episódio "Voyage of the Damned" de 2008 e finalmente a divertidíssima Donna Noble da atriz Catherine Tate, companheira do Doctor de David Tennant. Ficou faltando a minha favorita: Amy Pond.
O set completo Doctor Who Companion Action Figure Pack custa US$62,99 na pré-venda da Entertainment Earth, que aceita encomendas do Brasil.
Veja muitos brinquedos de Doctor Who aqui no Blog de Brinquedo.
Via Entertainment Earth.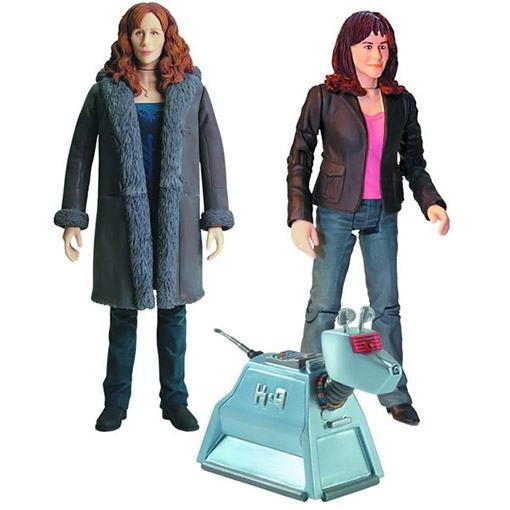 em
Action Figure
Doctor Who
Sci-Fi
Televisão