Boneco Bobble Head de Sam Jones como Flash Gordon (1980)
Por Dado Ellis em 27 de November de 2012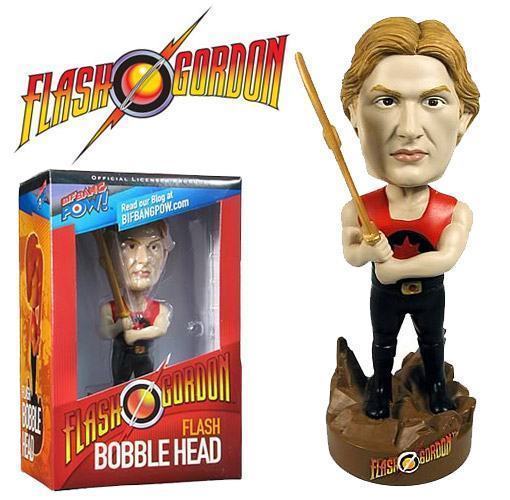 A Bif Bang Pow! homenageia um dos primeiros heróis espaciais das histórias em quadrinhos com um boneco bobble head de Flash Gordon, personagem criado por Alex Raymond em 1934. Raymond, também criador de Jim das Selvas, foi escolhido após vencer um concurso para descobrir personagens de quadrinhos para competir com Buck Rogers e Tarzan, que já faziam sucesso.
O Flash Gordon The Movie Flash Bobble Head foi inspirado no tosquíssimo filme, com ótima trilha do Queen, Flash Gordon de 1980 e tem as feições do ator Sam Jones como o herói que luta ao lado de seus amigos e do Príncipe Barin para derrotar o Imperador Ming. O boneco é feito de resina polystone e mede 18 cm (7") de altura.
O Flash Gordon The Movie Bobble Head custa US$12,99 na pronta entrega da Entertainment Earth, que aceita encomendas do Brasil.
Quem assistiu o filme Ted recentemente pode ver Sam Jones e relembrar um pouco do filme Flash Gordon.
Veja outros brinquedos da Bif Bang Pow! aqui no Blog de Brinquedo.
Via Entertainment Earth.
em
Bobble-Head
Cinema
Quadrinhos