Boneco de Papel Sheldon Cooper de The Big Bang Theory
Por Dado Ellis em 19 de October de 2012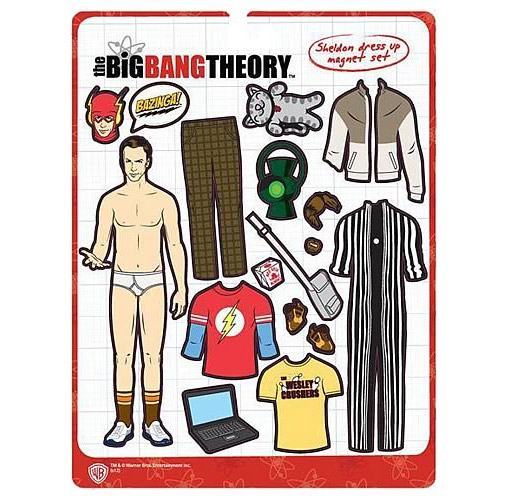 Um brinquedo bem simples, antigo e barato é a tradicional boneca de papel, que agora é feita com imãs. Ainda mais quando usam temas da cultura pop moderna com este set da série The Big Bang Theory.
O Sheldon Cooper Dress-Up Magnet Set vem com um boneco de papel magnético do ator Jim Parsons como o físico teórico Sheldon Coooper da famosa série da CBS.
O set Sheldon Cooper Dress-Up Magnet Set vem também com várias roupas magnéticas, incluindo uma camiseta do Flash e outra "Wesley Crushers", calças quadriculadas e pijamas listrados, além de acessórios como notebook, lanterna do Lanterna Verde, comida chinesa e o Soft Kitty da canção de ninar, entre outros. Tudo imantado para facilitar as trocas de roupas!
O Sheldon Cooper Dress-Up Magnet Set custa só US$9,99 na pré-venda da Entertainment Earth, que aceita encomendas do Brasil.
Veja mais brinquedos de The Big Bang Theory e confira também os Bonecos de Papel da Série Breaking Bad e as Bonecas de Papel da Série True Blood entre muitos outros brinquedos de papel aqui no Blog de Brinquedo.
Via Entertainment Earth.
em
Papel
Televisão