Bip-Bip: Papa-Léguas e Willy Coiote Kits Hot Rod Looney Tunes
Por Dado Ellis em 1 de August de 2012
A Round2 Models lançou uma coleção com três kits plásticos com carros Hot Rod inspirados no divertidíssimo desenho animado Willy Coiote e Papa-Léguas da Warner Bros.
São dois kits bip-bip do Papa-Léguas e um do Willy Coiote, já pintados não precisam de cola e são de fácil montagem indicados para iniciantes a partir de 8 anos de idade. Cada kit vem com vários decalque para decorar os veículos e com uma figura de vinil do Papa-Léguas ou do Willy Coiote com aproximadamente 11 cm de altura.
O Road Runner and Rail Rider Looney Tunes Vehicle Model Kit é o meu favorito com o Papa-Léguas e um carro Hot Rod estilo trem, o Road Runner and Beep Beep T Vehicle Kit com um calhambeque envenenado e o Wile E. Coyote & Wile E. Wonder Vehicle Kit com uma van Hot Rod verde e uma figura do Willy Coiote com um skate.
Cada kit Looney Tunes Wile E. Coyote and Road Runner custa US$21,99 na Entertainment Earth, que aceita encomendas do Brasil.
Veja mais brinquedos Looney Tunes e outros kits plásticos aqui no Blog de Brinquedo.
Via Round2 Models.
Clique abaixo para ver mais imagens.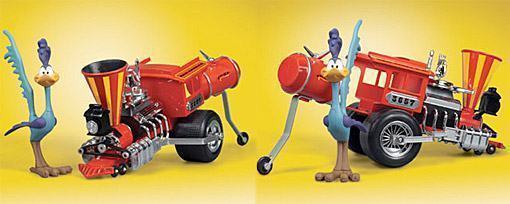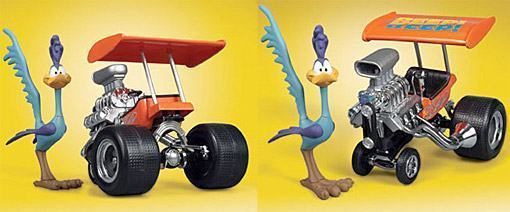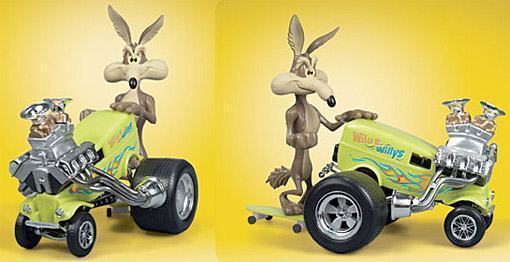 em
Kit de Montar
Televisão