Baralho Game of Thrones com as Casas Stark, Lannister, Baratheon e Targaryen
Por Dado Ellis em 4 de April de 2012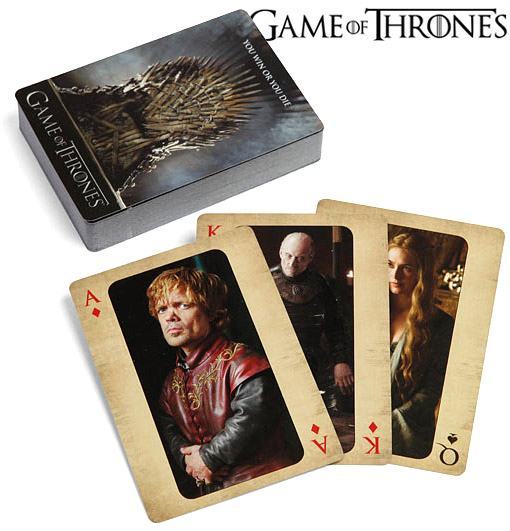 Começou a segunda temporada da excelente série Game of Thrones da HBO e enquanto você espera entre um episódio e outro pode organizar um carteado usando o baralho da saga A Song of Ice and Fire.
O baralho Game of Thrones Playing Cards vem com o Iron Throne impresso na parte de trás e fotos das principais personagens na parte da frente. Os naipes do baralho foram nomeados com as casas nobres da série: espadas para os cervos da House Baratheon com Renly, Cersei, Robert e Joffrey; copas são os dragões da House Targaryen com Ser Jorah Mormont, Daenerys, Viserys e Khal Drogo; paus ficou para os lobos da House Stark com Arya, Catelyn, Eddard e Jon Snow; as cartas de ouros representam os leões da House Lannister com Jaime, Cersei, Tywin e Tyrion. Os coringas não podiam ser outros: Petyr "Littlefinger" Baelish e Varys "The Spider".
O baralho de Game of Thrones custa só US$4,99 na ThinkGeek, que aceita encomendas internacionais.
Veja mais brinquedos de Game of Thrones e outros baralhos aqui no Blog de Brinquedo.
Via ThinkGeek.
em
Cartas
Televisão