Action Figures Zumbis do Filme A Noite dos Mortos-Vivos
Por Dado Ellis em 16 de April de 2011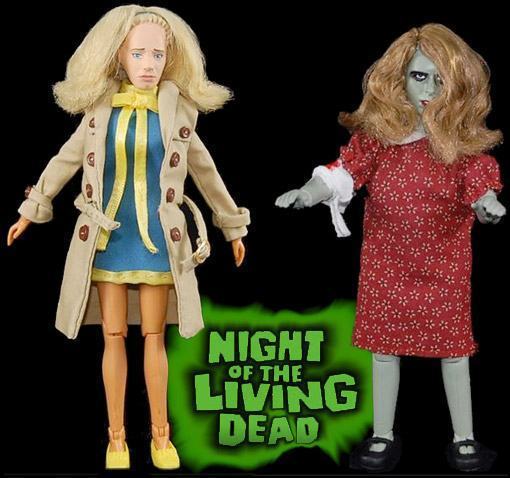 A EMCE Toys anunciou duas novas action figures do clássico Night of the Living Dead, o filme de George A. Romero que deu início, em 1968, a infestação zumbi dos cinemas.
O set Night of the Living Dead Mego-Style 8" Figures Series 02 vem com duas personagens: Barbra e a menina zumbi Karen Cooper feitas no estilo das antigas action figures da MEGO Corp. dos anos 70 e início dos anos 80. Quem era criança nessa época provavelmente teve ou brincou com um boneco da MEGO.
O set com as duas zumbis de A Noite dos Mortos-Vivos custa US$33,99 na pré-venda da BigBadToyStore, que aceita encomendas do Brasil.
Aproveitando que o filme A Noite dos Mortos-Vivos está prestes a fazer 40 anos a EMCE Toys também anunciou que vai ressuscitar a primeira série Night of the Living Dead Mego-Style Figures Series 01, lançada originalmente em 2008, com Ben e o Zumbi do Cemitério (20,3 cm (8") de altura cada). Veja foto depois do jump.
Veja outros Zumbis aqui no Blog de Brinquedo, incluindo o kit "Faça Seu Próprio Zumbi" também da EMCE Toys.
Via DreadCentral.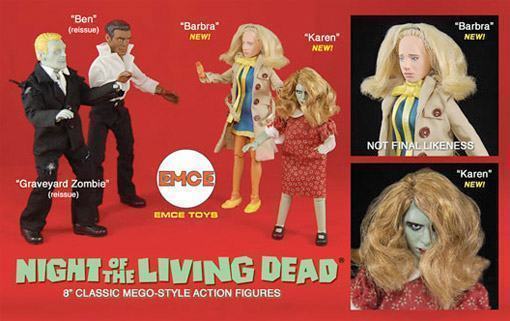 Night of the Living Dead Mego-Style Figures Series 01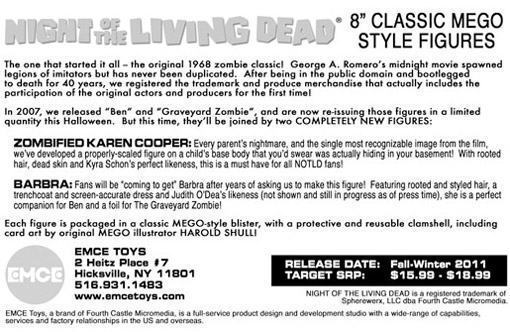 em
Action Figure
Cinema
Horror