The Twilight Zone Action Figures em Preto e Branco: Talky Tina e Willie
Por Dado Ellis em 31 de May de 2010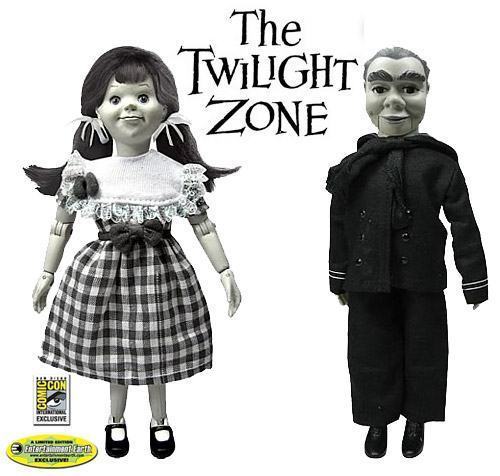 A Bif Bang Pow anunciou duas novas action figures em preto e branco e estilo retro da clássica série de televisão The Twilight Zone, ou Além da Imaginação. As figuras fazem parte dos lançamentos exclusivos para a San Diego Comic Con 2010.
A Twilight Zone Talky Tina Figure com 20,3 cm de altura, estrelou ao lado de Telly Savalas o episódio "Living Doll" de 1963. Tina era uma boneca do mal que sempre voltava, não importando o que Telly Savalas fizesse para destruí-la. Ela sempre voltava!
O Twilight Zone Willie Figure apareceu no episódio "The Dummy", de 1962, onde assombra o ventriloquista vivido pelo ator Cliff Robertson.
O set com as duas action figures de Além da Imaginação custa US$39,99 na pré-venda da Entertainment Earth, que aceita encomendas do Brasil.
Veja outros brinquedos de The Twilight Zone aqui no Blog de Brinquedo.
Via Entertainment Earth.
em
Action Figure
Televisão