Fantoches de Onde Vivem os Monstros (Where The Wild Things Are)
Por Dado Ellis em 15 de January de 2010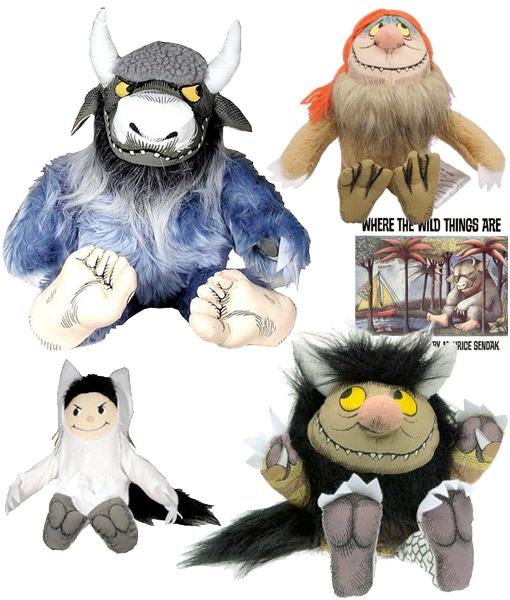 Estréia hoje, 15 de janeiro de 2010, nos cinemas brasileiro, o aguardado filme Onde Vivem os Monstros dirigido por Spike Jonze e baseado na excelente história infantil "Where The Wild Things Are", escrita e ilustrada por Maurice Sendak em 1963.
Para recriar está mágica história em casa a Crocodile Creek tem uma linha de fantoches de pelúcia das principais personagens do clássico livro. Os fantoches estão disponíveis em tamanhos que vão de 17 cm até um Bernard com 61 cm!
Os 4 fantoches de Onde Vivem os Monstros da Crocodile Creek são: Max Wild Thing, Bernard Wild Thing, Moishe Wild Thing e Sipi Wild Thing. O filme eu ainda não vi, mas o livro eu recomendo muito!
Veja a ficha do filme Onde Vivem os Monstros no site Cinema com Rapadura.
Escrevendo este post me lembrei do @GuilhermeBriggs, dublador de primeira, nosso leitor e autor do maravilhoso blog Teatro de Bonecos, que também é super fã de "Where The Wild Things Are"! Um abraço Guilherme!
Veja também:
Bonecos de Vinil Medicom do Filme Onde Vivem os Monstros
Where The Wild Things Are em Versão Kubrick
Where The Wild Things Are: Set Duplo Kubrick e Bearbrick
Via Crocodile Creek.
em
Cinema
Livros
Pelúcia e Pano