Mr. Toast, a Torrada de Pelúcia, em Versão Gigante!
Por Dado Ellis em 18 de May de 2009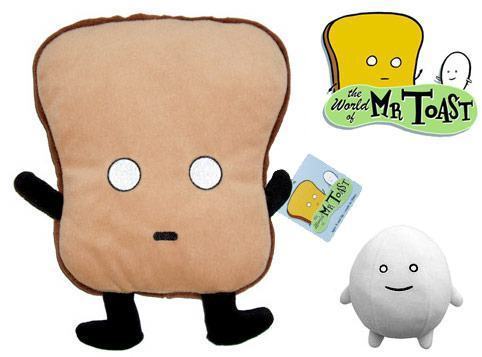 O mundo The World of Mr. Toast é habitado por divertidos personagens como Joe The Egg, Clem Lemon, Shaky Bacon e Mr. Toast. Todos criados por Dan Goodsell e distribuídos pela DKE Toys.
A última novidade de Dan Goodsell é uma versão gigante do boneco de pelúcia do Mr. Toast com 28 cm de altura (a versão original tem o mesmo tamanho de uma torrada verdadeira: 17 cm de altura).
O Mega Mr. Toast custa US$12, mais US$3,50 de frete internacional, na Mr. Toast Dolls Store.
Dan Goodsell também lançou uma nova versão, mais arredondada, de Joe The Egg, o melhor amigo de Mr. Toast.
Veja outras personagens do The World of Mr. Toast aqui no Blog de Brinquedo:
Bacon de Pelúcia
Monster Toast
Vampire Toast
em
Pelúcia e Pano
Toy Art